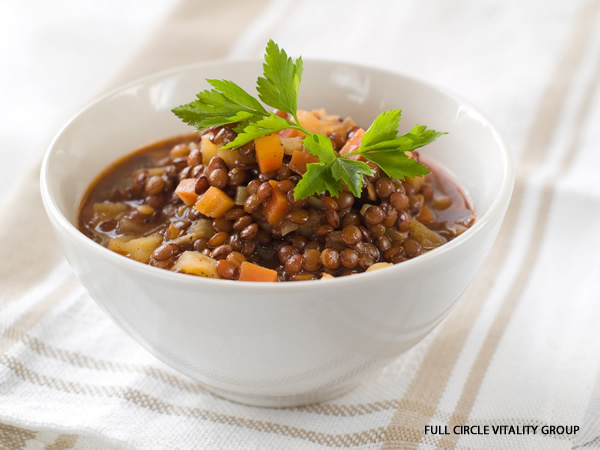 Lentils are rich in protein, fiber and iron and have a nice flavor and texture.  They come in various colors:  yellow, red, brown, black and French green. They are terrific in soups and salads, as a mashed dish, with roasted veggies, or as a thickening agent.
This month's recipe comes from my good friend Leslie Brelsford, who we joke is our kids' second mother!  She's a great cook, and is known for her love of lentils!  Enjoy this delicious soup!
1 pound of lentils
2 carrots, chopped
1 large onion, diced
2 ribs celery, chopped
1 garlic clove, minced
1 (6-ounce) can tomato paste
1 Tbsp. red wine vinegar
1 bay leaf (remove when cooked)
2 tsps. sea salt
¼ tsp. black pepper
8 c. water
Rinse lentils.  Pour lentils into a deep pot; add carrots, onions, celery, garlic, tomato paste, red wine vinegar, bay leaf, salt and pepper.
Add water.  Bring to a boil.  Cover; simmer until lentils are cooked, about 1 ½ hours.  Taste; add more salt and pepper, if needed.  Makes 8 servings.
(Good with a few red pepper flakes sprinkled on each serving.)
To Your Vitality!