---

Full Circle Vitality Group utilizes Solutions4 products for clients who need supplemental nutrition or a quality nutritional shake. Solutions4 agrees with the idea that humans are inextricably and concurrently spiritual, physical, mental, and emotional beings, and that whatever affects a single aspect of one's being will ultimately and in some measure affect all. These products are high quality and assist the body's ability to renew and heal itself. Full Circle Vitality Group strives to provide a custom natural solution to clients' nutritional needs to help them achieve their full vitality! Contact us today to order or for more information.
Nutritional Shakes
Solutions4 nutritional shakes come in these delicious flavors:  chocolate, vanilla, mocha, strawberry and orange cream.  The shakes can be used as a meal replacement, a snack, and can assist in weight loss and to help manage glucose levels.  The shake powder mixes instantly with cold water and can substitute up to 2 meals a day while providing essential nutrients to the body.  We have a terrific Super Shake recipe, too!
These nutritious shakes have a full panel of nutrition, containing the following: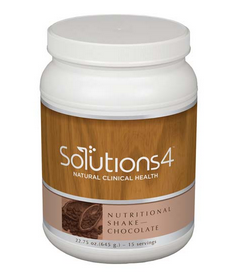 20 gms. protein
5 gms. fiber
10 gms. carbs
180 calories
8 billion units of probiotics
5 digestive enzymes
36 vitamins & nutrients
0: gluten, lactose, soy or sugar
Call or email us today to order, or to ask for free samples!


---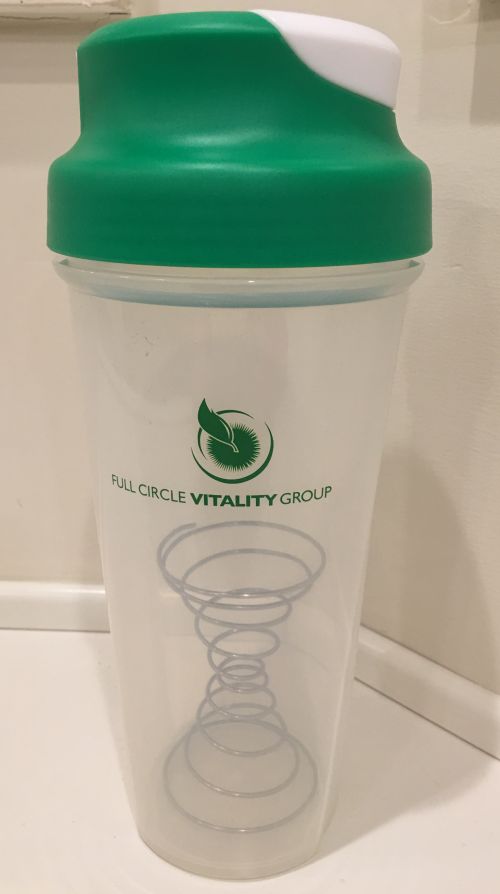 Shaker Bottles (Pogo Blenders)
$12 each
Full Circle Vitality Group carries really neat shaker bottles called Pogo Blenders.  

These bottles are:
Made in the USA from recyclable materials
BPA Free
Dishwasher safe
Inexpensive
Sized right – they hold 28 ounces
They have a convenient carabiner clip and an effective dual-action agitator so whatever you are blending comes out nice and smooth! These Pogos can make protein shakes, nutrition drinks, and even mix up scrambled eggs and mixes. They are perfect for those on-the-run times when you need a quick meal.
You can get your very own bottle for only $12 each. 
If you are looking for a delicious and nutritious protein shake, check out our Solutions 4 products.  The shakes come in four flavors:  vanilla, chocolate, strawberry and orange. 
We will provide you with samples to try, too, if you aren't sure about nutritional shakes.
Give us a call!
---
Insulated Tote Bags
$10 each

These versatile tote bags can be used for lunch bags, grocery trips, market trips or even while kayaking (according to one client!).  They are insulated and sturdy, yet fold up for storage.  With functional carrying handles and an outside pocket for utensils, grocery lists, etc., they are perfect for many uses!
Each bag sells for only $10.  Buy one for your summer camper, or treat yourself to some healthy home-packed lunches!
---
Hangover Helper Kit
$12 each
Email:

This email address is being protected from spambots. You need JavaScript enabled to view it.

to order your kit today.
If you are like many people, you like to celebrate!  Why not?!  Cheers!  Sometimes, we can get caught up in our celebrations, and often drink just a little too much. Ouch!
Never fear!  Full Circle Vitality Group has a solution for your occasional alcohol overindulgence that leads to the dreaded morning after and the ever-present hangover and your vow to "never drink again."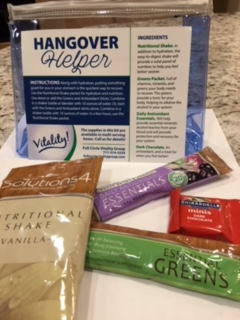 Introducing the Hangover Helper kit – specially designed to help you get through the day after, and to prepare healthfully for your next celebration, so it might not be as dreadful.  Our Hangover Helper kit comes in a reusable cosmetic or shaving bag and contains:
Nutritional Shake. Provides nutrition along with hydration to make you feel better sooner.
Greens Powder. Helpful to alkalize your system and provides hydration when you mix with water.
Antioxidants Stick. Provides recovery and protection for your body.
In addition, we include easy health tips to help you while you recover, and some suggestions for the next time you plan to celebrate. 
Hangover Helper kits are $10/each.  Email: This email address is being protected from spambots. You need JavaScript enabled to view it. for your kit.
Plan ahead, and have a few Hangover Helper kits ready.  Buy some as gifts – they'll fit in a stocking.  Use them as party favors.  Email us or give us a call today.
---
*Images are the property of Beneficial International ©, all rights reserved 2016. Statements have not been evaluated by the FDA. No product is intended to treat, prevent or cure any disease. Consult your health care professional before use. By viewing this product, you acknowledge that the information provided does not diagnose, treat, prevent or cure any disease