Hangover Helper Kit ($10 each)
Email:

This email address is being protected from spambots. You need JavaScript enabled to view it.

to order your kit today.
---
I don't want to be the first one to say this…but the holiday season is right around the corner. And, if you are like many of us, you plan to celebrate in a big way, many days – with a big glass of beer, champagne, liquor or other type of libation.  Cheers!
Sometimes, we can get caught up in our celebrations, and often drink just a little too much. Ouch!
Never fear!  Full Circle Vitality Group has a solution for your occasional alcohol overindulgence that leads to the dreaded morning after and the ever-present hangover and your vow to "never drink again."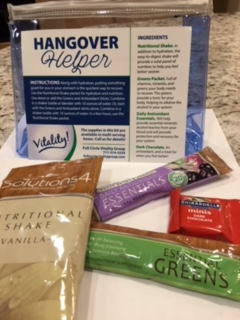 Introducing the Hangover Helper kit – specially designed to help you get through the day after, and to prepare healthfully for your next celebration, so it might not be as dreadful.  Our Hangover Helper kit comes in a reusable cosmetic or shaving bag and contains:
Nutritional Shake. Provides nutrition along with hydration to make you feel better sooner.
Greens Powder. Helpful to alkalize your system and provides hydration when you mix with water.
Antioxidants Stick. Provides recovery and protection for your body.
In addition, we include easy health tips to help you while you recover, and some suggestions for the next time you plan to celebrate. 
Hangover Helper kits are $10/each.  Email: This email address is being protected from spambots. You need JavaScript enabled to view it. for your kit.
Plan ahead, and have a few Hangover Helper kits ready.  Buy some as gifts – they'll fit in a stocking.  Use them as party favors.  Email us or give us a call today.
---

Full Circle Vitality Group utilizes Solutions4 products for clients who need supplemental nutrition or a quality nutritional shake. Solutions4 agrees with the idea that humans are inextricably and concurrently spiritual, physical, mental, and emotional beings, and that whatever affects a single aspect of one's being will ultimately and in some measure affect all. These products are high quality and assist the body's ability to renew and heal itself. Full Circle Vitality Group strives to provide a custom natural solution to clients' nutritional needs to help them achieve their full vitality! Contact us today to order or for more information.