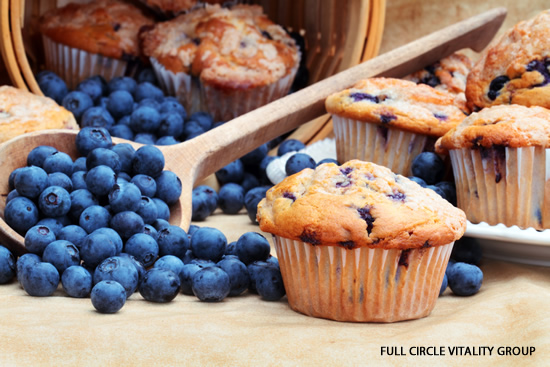 This scratch recipe is loaded with antioxidants, anti- inflammatories, and has a lot of protein, making these muffins a great summertime quick and easy breakfast.  We're coming into blueberry season, so take advantage of local fruits and make a batch.  You can even freeze them for later!  Blueberries rank as one of the healthiest fruits you can eat, even when they've been frozen!  This recipe makes 12 muffins.
2 ½ cups mashed bananas
2 tablespoons honey
3 teaspoons baking powder
1 teaspoon of sea salt
1 teaspoon nutmeg
4 tablespoons coconut oil, melted OR 1 stick organic unsalted butter, melted
2 teaspoons vanilla extract
½ cup buckwheat flour (or regular wheat flour)
1 ¼ cup rice flour
¾ cup tapioca starch
2 cups fresh blueberries, divided
Pre-heat oven to 350 degrees and line a muffin tin with paper muffin molds.
In a large bowl, combine mashed bananas, honey, baking powder, salt and whisk for one minute.
Add in the melted coconut oil or butter, vanilla extract and stir.
Add in the buckwheat flour, rice flour and tapioca starch and stir until combined.
Gently fold in blueberries until they are evenly distributed.
Divide the batter evenly between the muffin molds.
Sprinkle the remaining blueberries onto the top of each muffin cup, pressing in gently.
Bake for 25-30 minutes until a toothpick inserted in the middle comes out clean.
Allow muffins to cool down for at least 10 minutes before removing from the muffin tin.
To Your Vitality!