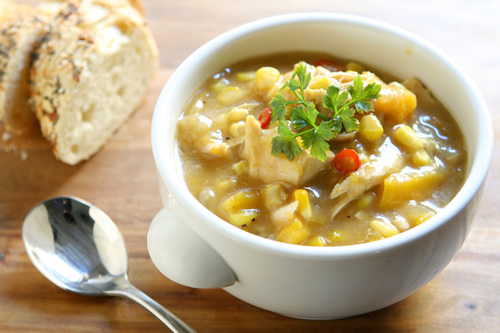 This is as old-fashioned as can be, and as delicious as can be, too! Another one from my mom, Margie 😊.
Soup is good in any season, but I find it especially nourishing as the seasons change.  Try this one soon, and make enough to stock up by freezing!
Boil a fryer or stewing chicken in enough water to cover (you know I need to add an organic chicken is best!).
Add salt, black pepper, white pepper, bay leaf, parsley, thyme, poultry seasoning (or your favorite spices) and a sliced onion. Eyeball the amounts, or add about a tablespoon of each and then taste. 
Cook until chicken falls off the bone (several hours).
If fat is on the chicken, allow it in the broth (especially if your chicken is organic).
Take chicken off the bone and put it back into the broth.
Add fresh corn (depending on the season). Frozen is second best choice.
Rivels:
2 cups unsifted flour; ½ tsp. salt: 1 egg, well beaten.
Combine ingredients and mix together with fingers until crumbly.  Drop lumps into simmering broth and allow to form for 10-15 minutes. 
You can add spices to your rivels – oregano and parsley come to mind.
You can omit rivels if you wish, and add noodles or rice, too!
To Your Vitality!