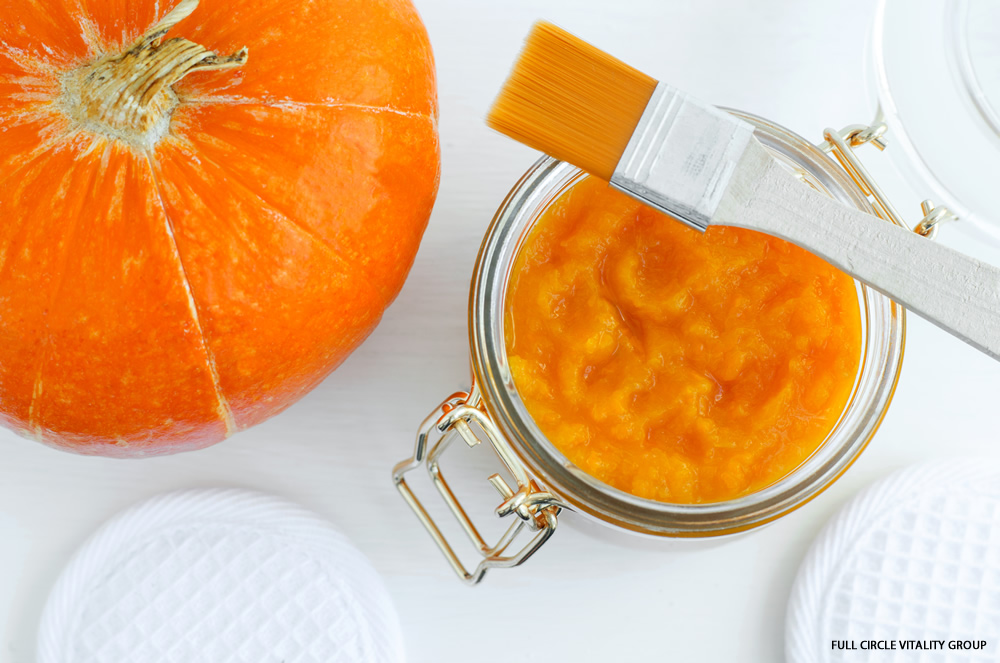 Men, don't stop reading!  Your bodies take a beating from cold weather, sunny winter days, environmental toxins and stress, just like we women.  One of the best things you can do is take care of your largest organ – your skin!
Grab a pumpkin from your decorations and use it!  Try the following recipe in your next shower, and your skin will thank you:
Honey Pumpkin Body Scrub:
¾ cup honey (preferably raw or local)
16 oz. pumpkin puree (not pie filling) – make your own from a real pumpkin – see below
1 cup baking soda
Blend ingredients in a mixer and mix well.  Apply the mixture with a washcloth in your next shower and feel it exfoliate your skin!  Rinse. 
This mixture is antimicrobial, and rich in antioxidants.  It will help to remove dead skin and let your body breathe from the outside!
To make your own puree from your pumpkins, simply cut them in half.  Scoop out the seeds and stringy material (rinse the seeds, dry them, and roast them along with the pumpkins.  Add some sea salt), rub the halves with olive oil and roast, cut side down at 425 degrees for 30-45 minutes.  Your pumpkin is done when you can pierce the skin with a fork.
Pumpkin Avocado Body Mask (and Face, too!)
Use one of my favorite foods, an avocado, for this delightful face mask or body treatment:
16 oz. pumpkin puree
1 avocado
2 Tbsp. honey (preferably raw or local)
2 Tbsp. Greek or whole-fat, non-flavored yogurt
Blend ingredients in a mixer and mix well.  Apply to face or body and allow to sit for 15 minutes.  Use this time to read something, or just sit in peace 😊.  Rinse with a warm cloth.
Harvest Spice Facial Scrub
½ Tbsp. nutmeg
½ Tbsp. cinnamon
Juice of ¼ lemon
2 Tbsp. honey (preferably raw or local)
Mix ingredients together, and gently apply to damp face.  Leave on face for 30 minutes, then gently rinse using a warm washcloth.  This might make your face tingle a bit, but this is normal. 
If you'd like some tips for eating for healthier skin, give us a call!
To Your Vitality!