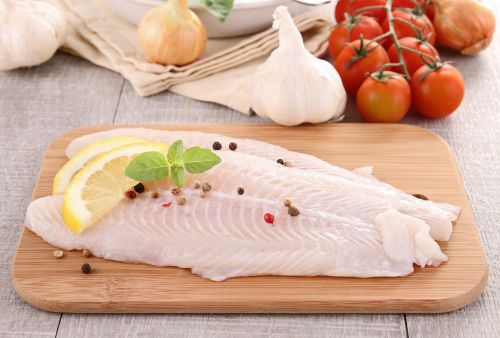 I love fish.  I'm just not crazy about cooking it.  However, I've discovered a delicious type of fish- Triggerfish - that could be my new favorite! It is SO easy to cook.  Try this recipe soon!
As I often say here, shopping at local farmer's markets is not only a fun thing to do, but an experience.  You can learn a lot of good tidbits from the farmers about their goodies.  This happened to me recently.
I buy my local fish from Kepler's Seafood Market at the West Shore Farmer's Market.  One of the staff, Joyce, has become my go-to person for learning about the fish they sell, and how to cook it!  A win-win for me.  Joyce recently told me about Triggerfish.
Triggerfish is a white, firm flesh fish that has a taste hard to describe.  It's light in taste, maybe a little buttery, and flaky.  Suffice to say, it is scrumptious! Joyce told me triggerfish used to be a by-product of snapper fishing, and was thrown back. Someone discovered it could be a good fish to eat, and voila!  They were correct.
According to Joyce, along with NOAA (NOAA.gov), tells me triggerfish gets its name from one of its fins that becomes a "trigger" to be used as defense or as an anchor in tiny places away from predators. Triggerfish is a smart seafood choice because it is sustainably managed and responsibly harvested under U.S. regulations.  Another win-win!
Here is the recipe Joyce shared with me.  Visit Kepler's to get your fish, and try this soon!
Triggerfish Recipe
Buy one fish fillet – about ½ pound – for 1-2 people.  I bought two fillets and two of us ate every bite!
Pre-heat oven to 375 degrees.  Rub salt and pepper on fillets and drizzle with lemon juice.  Pan sear, using good quality olive oil or organic butter, for about 3-4 minutes each side – till slightly browned and white around its edges.  Place in an olive oil coated baking dish and bake about 10 minutes.  Fish will flake easily when cooked.
When done, you can sprinkle Old Bay seasoning or your favorite seasonings on the fish.  Add a little more lemon juice and butter.  I made a delicious aioli-type sauce with mayonnaise, lemon juice and old bay to dip the fish in – but it really doesn't need it! It is delicious straight from the oven.
You will love this fish!  Let me know if you do.  And, if you like seafood and fish of any kind, stop by Kepler's to grab some.  They are open Tuesday, Friday and Saturday.  Say hello to Joyce.
To Your Vitality!