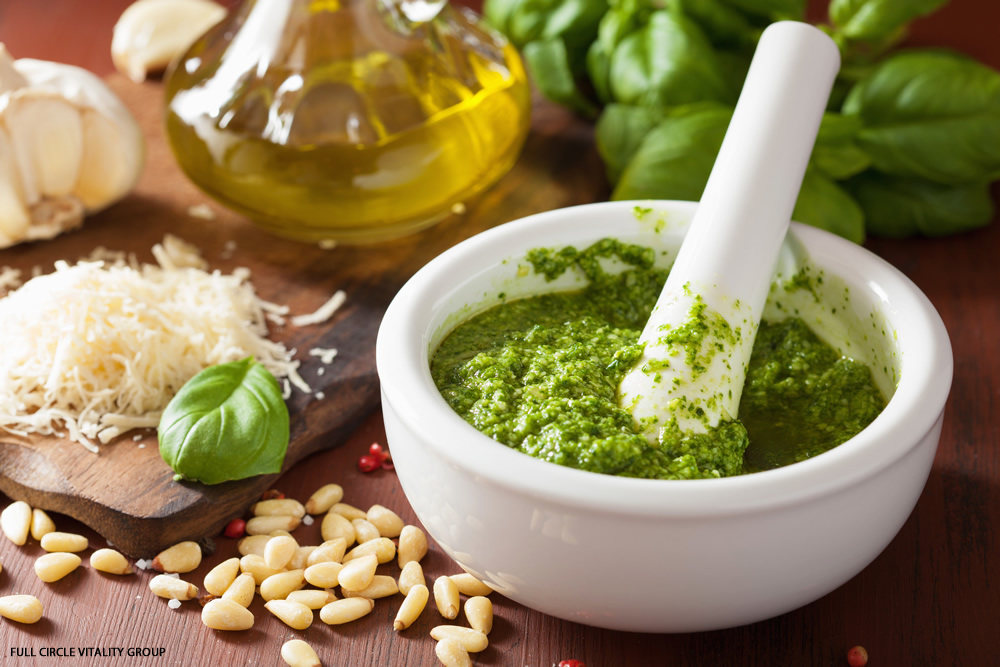 This is a perfect time of year for a haul of fresh produce – veggies, fruit and herbs!  I'm a HUGE fan of basil, and just started growing some in my garden.  I'm not a gardener, so my fingers are crossed!
In the meantime, I purchased a Pesto Kit from my CSA Farm, Spiral Path Farm, and made some of the most delicious pesto over the weekend.  I'll use some and freeze the rest in an ice cube tray and small containers.  Pesto all year!!
Here's my recipe, which is a combination of several I found:
Perfect Pesto
Some perfectionists say to slice the basil leaves, but it's very time consuming.  I used my blender to save time and effort.
2 cups basil leaves
4-6 garlic cloves
½ cup olive oil
3 T parmesan cheese (shredded)
Salt and pepper to taste
Add olive oil to a blender with slightly chopped garlic cloves.  Wash basil and add to blender along with cheese and seasonings.  Pulse or blend carefully till the mixture becomes a sauce.
Presto!  Pesto!  Your kitchen will smell like a delicious Italian restaurant.
Use with fresh summer veggies, slather on a baked potato, add to a salad, make a mozzarella/tomato salad…. the possibilities are endless!  You can freeze in an ice cube tray or small container and use all year long!
To Your Vitality!