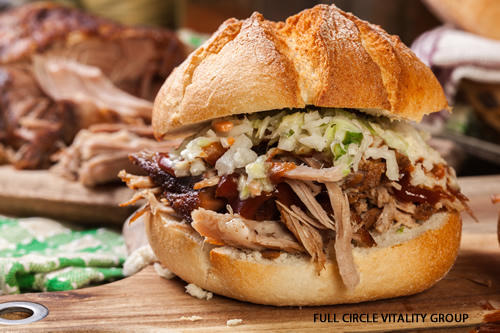 "Remember, good barbecue is usually found in places where none of the chairs match."
This was my calendar quote the other day.  I love it, and have found it to be true, especially when visiting cities like Memphis and Nashville, where barbecue reigns supreme.
Slow cooking is one of the easiest ways to prepare meals, and especially meats. Slow cooking does the work for you, saving you time and effort and is a very healthy method of cooking. You can often save a little money, too, when you use less expensive cuts of meats, and cook them slowly and with great flavor.  Give it a try with this delicious recipe and celebrate barbecue this summer!
This recipe is a family tradition, developed by my mom, Margie!  She was an exceptional cook, and I'm thrilled to have a few of her time-honored and kitchen-proven recipes.  Enjoy!
Crock Pot Beef (or Pork!) Barbeque
Roast:
6 lb. chuck/pot roast, or pork roast
1 sliced onion
2 cloves of garlic, sliced
Water to cover meat in crock pot
Sauce:
32 oz. ketchup
½ cup Worcestershire sauce (or Braggs Aminos)
½ cup brown sugar (or maple syrup)
1 tsp. chili powder
1 tsp. Liquid Smoke (or can be omitted)
1-2 cups of wine or beer
2 tsp. powdered mustard
Salt, pepper, plus your favorite seasonings.  I add a bay leaf, oregano, and garlic powder
Place the roast, onions, and garlic in a crock pot and cook on low for 8-9 hours or high for 4-6 hours.  When done, remove the meat from the crock pot and shred it. 
Combine the sauce ingredients in the crock pot.  Add the shredded meat to the sauce.  Heat for an hour or so in the crock pot and voila!  You're done! Serve alone or on whole grain rolls.  Add some veggies or a salad, and you have a delicious meal!
To Your Vitality!