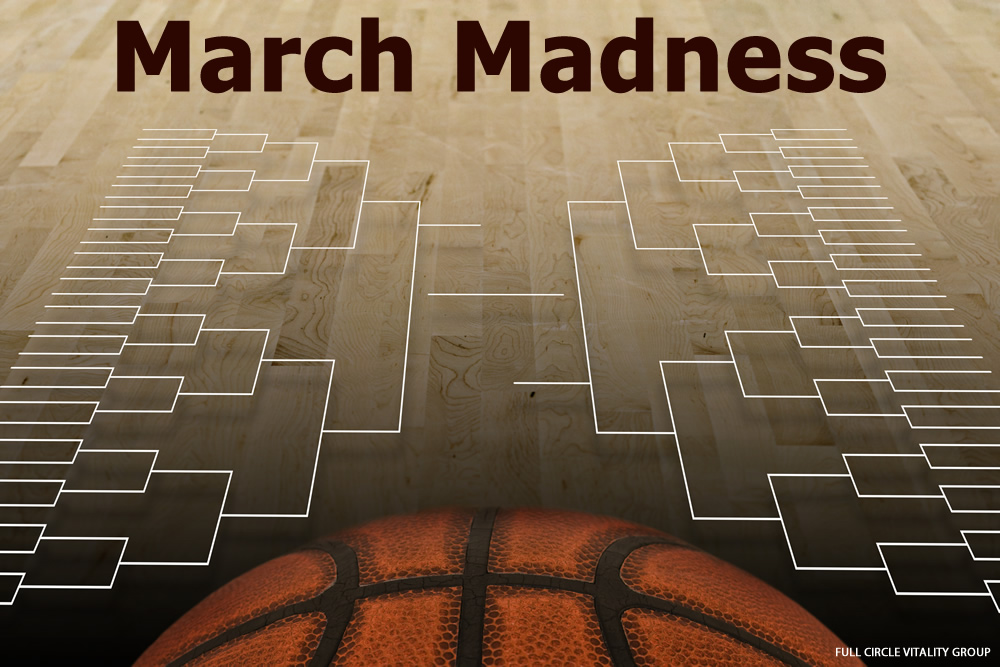 To say my family is competitive is an understatement.  We like to compete in all phases of life, even if it's playing cards or a board game after a holiday dinner.  Trivial Pursuit, men?  We ladies will grab all the pie pieces!
We love sports, too, and especially the NCAA Basketball tournament – March Madness!  Some of us cheer for the same teams; others cheer against each other.  Those who know us know that Notre Dame is the #1 team favorite, especially with Tom Sr. and Tom Jr.  With basketball, then I enter the forum, since my Gonzaga Bulldogs normally reign supreme.  I can say this since I'm writing this blog. Daughter Mary Kate and son Jim are Dayton grads, and they've been watching their team strongly rise in the rankings this year!  Daughter-in-law April is a Temple alum…. we'll just end with that much of a statement.  And, new son-in-law Jason loves Maryland and is slowly getting his hopes up and then his heart broken. It could be a lively tournament this year!
Think about the young players on a basketball team – really on just about any sports team.  How do they muster their energy, their fortitude, their stamina for every game?  How do they get their minds "right" for each game?  With basketball, that's 2 or 3 games a week!  The coach and their staff are integral here – they are the leaders of their young athletes. They have to guide them, pep them up, discipline them, and mostly keep them on their game!
We can look at how we approach life and our health in the same way. What do you say to yourself to get back to your game?  How do you muster your strength to hit the gym, shop for healthy food, or back down and relax a little?  How do you prepare for each day, with the attitude that you'll win at whatever tasks you must face?
I often work on attitude and outlook with clients, and I definitely pose these questions during several of my wellness presentations.  I came across some quotes for you to consider, and perhaps repeat to yourself when you need a little vim and vigor to keep moving toward a healthier lifestyle.
In honor of March Madness, I share them with you:
To win a battle, you may need to fight it more than once.
You must remain focused on your journey to greatness.
I CAN is 100 times more important than IQ.
Enthusiasm is faith set on fire.
If you think you'll lose, you're lost.
Believe in something and it will happen.
To guarantee success, act as if it is impossible to fail.
Don't let yourself fall short of your health goals.  Keep moving toward the prize and think of yourself as a winner! It really is true that the more you think this, the more you will believe it.
And, do yourself a favor and cheer for my Zags!  You'll be following a winner.  HaHa!
To Your Vitality!