I have an adopted olive tree in the Tuscany region of Italy and receive 4 shipments of delicious olive oil each year.  I get updates about my tree, information on the olives and the process of making oil.  I love it!  If this interests you, the company is Nudo, and here's the link where you can learn more about adopting your own tree.
Here is a recipe from a recent email I received.  I think it sounds like a weekend dinner.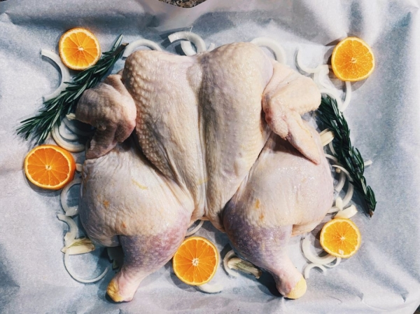 Spatchcock Chicken
Spatchcocked poultry is simply a whole chicken or turkey that is cut into halves, for quicker cooking. 
Directions to do so are included below. 
Ingredients (serves 4)
1 whole 4-5 pound chicken or small turkey
1/4 cup of Nudo mandarin olive oil, divided (if you don't have flavored olive oil, add some orange juice concentrate or orange essential oil to olive oil)
1/2 cup orange marmalade
2 Tbsp brown sugar 
1 small onion sliced 
4 cloves garlic, smashed
1 Tbsp fresh rosemary, minced
1 small orange, sliced 
Sea salt and pepper 
Allow for 6 hours sitting time (or even overnight) before cooking to increase the flavors of the glaze.
[Spatchcock the chicken by using kitchen shears to cut along both sides of backbone. Make a small slit in the breastbone and flip over the chicken so the skin side is up and gently push down on the breasts until the bird flattens.]
Drizzle both sides of the bird with olive oil, then sprinkle both sides generously with salt.  Cover and store in the fridge for 6 hours.
Preheat oven to 400°. Remove the chicken 30 minutes prior to cooking to allow chicken to come to room temperature. 
Slice onion and orange, mash or mince garlic.  Place in a roasting pan or large casserole dish, lined with parchment paper or foil. Pat the chicken dry, drizzle again with oil. Lay the chicken skin side up on top of the onions, sliced oranges, and garlic.  Cook for 30 minutes. 
While your chicken is cooking, make the orange glaze by mixing together the brown sugar, 1 Tbsp Nudo mandarin olive oil, orange marmalade, chopped rosemary, a pinch of salt. You may need to thin the glaze out with a tablespoon or so of water. 
After the 30 minutes, brush the chicken with the glaze and cook for 10-15 minutes longer. Let rest 10-15 minutes before cutting. To serve, drizzle with more olive oil. 
Create a marvelous dinner that helps your vitality!