Details

Written by Robyn Holder

Robyn Holder

Published: 10 June 2019

10 June 2019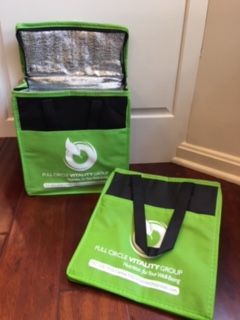 Full Circle Vitality has the cutest lunch tote bags that are highly functional!  I recently gave a few to my favorite home workmen – shout out to Bob Lutz Home Improvements!  Matt, who works with Bob told me he loves his bag, and not only uses it for lunches, but it fits perfectly behind the seat in his kayak!  Now, that's an endorsement!
If you are trying to eat more healthfully by taking lunch with you, you can have your very own Full Circle Vitality lunch bag!  This is a great time of year to experiment with your own lunch because there is a bounty of fresh foods coming into season.
Do you visit local farmers' markets, or a grocery store on a warmer day?  Take your Full Circle Vitality bag along with you to protect your goodies!
Many current Full Circle clients are already using these bags, and I've gotten numerous endorsements on them. Try one for yourself! These bags are insulated, a perfect size for a good lunch, and have a sturdy carry handle, plus a handy outside pocket for utensils or napkins, or even some reading material for a lovely lunch time refreshment! Shout out here to Gwen Robbins of Commonwealth Print and Promotions for finding these gems for me!
Our colorful lunch totes sell for $9 and are available today!  Call us at 717-574-3534 or email This email address is being protected from spambots. You need JavaScript enabled to view it. to order a few!
To Your Vitality!