I ran into a blog reader recently (shout out to Sam Gianelli) who told me he enjoys the recipes I provide.  So, here's one for you, Sam!
We talked about protein last week, and shrimp is one of my favorite sources of protein.  It is easy to cook, a rich source of clean protein, and has good minerals – zinc, for instance – which helps boost your immune system.  Here is one of favorite, easy, busy-night or lazy-day dinners for you to try!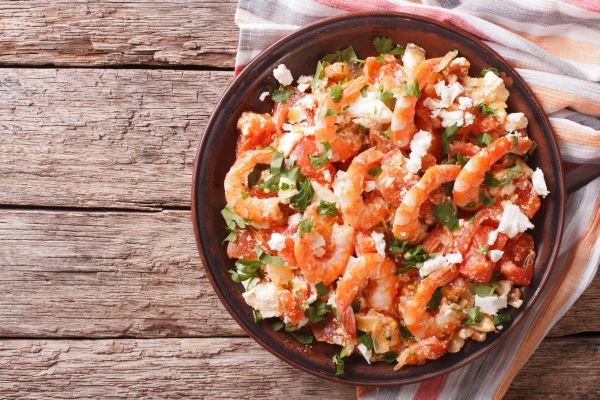 Baked Shrimp with Tomatoes and Feta (from The Food You Crave, by Ellen Krieger)
1 T. olive or coconut oil
1 medium onion, diced
2 garlic cloves, minced
2 small cans diced tomatoes, or 3-4 fresh tomatoes, diced
¼ cup minced fresh parsley (or used the dried spice – a little less perhaps)
1 T. fresh minced dill (or dried, about ½ tsp.)
1¼ pounds medium raw shrimp, peeled and deveined (so you don't have to!)
¼ tsp. salt and ground black pepper
2/3 cup crumbled feta cheese
I like to sprinkle a bit of Old Bay Seasoning, too
Preheat oven to 425 degrees.  In an ovenproof skillet, over medium heat, heat the olive or coconut oil.  Add onion and cook until softened – about 3 minutes.  Add garlic and cook another minute.  Add tomatoes and bring to a boil.  Reduce heat to medium-low and let this yummy smelling sauce simmer for about 5 minutes, till sauce begins to thicken.  Remove skillet from heat, and stir in parsley, dill and shrimp, seasoning with salt, pepper and Old Bay if desired. Experiment with some of your favorite spices if you like!  Sprinkle the feta cheese on top.
Place the skillet in the oven and bake until shrimp are cooked through and cheese has melted – usually about 12 minutes.  Enjoy as is, serve over pasta or rice, or on your favorite cooked greens (like spinach).  If you don't have an ovenproof skillet, you can transfer this dish to a casserole dish and bake.
Makes 4 servings.
Enjoy!  To Your Vitality!